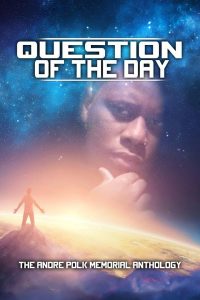 Beyond a simple anthology, "QUESTION OF THE DAY" is a tribute to one of our own.
Andre Polk was a member of Space Opera and Space Opera: Writers Facebook groups (I'm an admin for the writers group). He was working on his first Sci-Fi novel. He loved to ask the group interesting questions about plot, tech, characters, etc, and would start these posts by tagging them "QOTD", his acronym for "Question Of The Day".
I interacted with Andre on Facebook in the group and directly. He was ALWAYS respectful, curious, and poignant with his questions and observations. To put it bluntly, he was a good dude and it's a damn shame he's not with us anymore.
Earlier this year, Andre passed away, removing his positivity, his curiosity, and his wit from our world forever. The members of Space Opera: Writers group have put together an anthology of poems and stories of a decidedly positive spin, shot through with some of Andre's own Questions. Some, not all, because Andre was prolific in his efforts to improve his craft. A special thanks to Johnathan Clayborn (Clayborn Press) and Tom Evans (editor), whose pro-bono work showed that they've poured their hearts and souls into getting this book published.
From a purely sci-fi angle, I believe you'll enjoy the wonderful talent showcased in this book, but more importantly, all net proceeds from the sales of "QUESTION OF THE DAY: THE ANDRE POLK MEMORIAL ANTHOLOGY" will be given to his family.
The anthology is available in both ebook and printed copies, so please be part of our Sci-Fi community and support this effort. Purchase a copy, gift a copy and leave a review. There are nearly 12000 people in the combined Space Opera groups and we've never done anything like this before.
PLEASE step up and show your support. Here's the link.