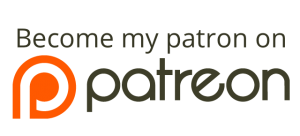 Patreon is a way to join your favorite creator's community as a "Patron" to help them keep making stuff you love. In the days of yore, royalty and wealthy people would become patrons for the various artists and creators of the day. That allowed the artiste' to focus on their chosen craft. For their part, the patrons gained access and it was a means the patrons were the first to see new works, contribute ideas for projects and be the recipients of special gifts from the artists, as well as the satisfaction of being able to say "I was part of the creation of THAT!".
Today, with the Interwebz and other social "funding" platforms, we creators don't have to find one or two wealthy individuals. We can now have hundreds and thousands of supporters of our craft aid and participate in the creation process. And unlike Kickstarter, Indiegogo, or Gofund, there is no stigma around "Asking for the money". I don't have to tug at your heartstrings or guilt you into participating. If you like what I'm doing, let's partner in this effort.
So what do you, my potential patron, do? Well, instead of literally throwing money at your screen (trust me, that doesn't work), you can now pay as little as $1 per month to have ongoing access to new projects and exclusive "patron only" content/prizes/ interactions.  This means the creator (me) gets paid regularly to produce innovative and interesting content and you become a bonafide, real-life "Patron of the arts".  That's right–Imagine you, in a long frilly white wig, painted on a 10-foot canvas on the wall of a Victorian mansion. Not that I will paint that. I could do a wicked stick figure picture though. As one of your favorite creators, I'll reduce the lag time between book productions. That extended production time is usually due to the time it takes to raise funds to cover the expenses of editing, books covers, promotion, etc. In addition, elevating the "Our" profile becomes possible when "We" can appear at events and participate in Cons because YOU are part of this writing process, letting me produce QUALITY products for a growing fan base.