Happy New Year From the Biker Nerd!

Yeah, that's not a picture of me…anymore. I'm a lot more mellow in my later years. (But you can buy that gnome on Amazon by clicking picture).
Your ol' Uncle PiR8 hopes you had a great Christmas and Holiday Season. In amongst the socks, ugly sweaters, and odd colored underwear gifts, you may have gotten a few gift cards, maybe even one or two from Amazon. If you end up with an odd amount left over, say $4.99, you might consider buying an AWESOME SciFi book. This one is like Anne Rice and John Ringo wrote a book together, and then turned the volume up to "11". Galactic Vampires, Shape-Shifting Warriors, Gray Aliens and Yakuza Ninjas.
Average of 4.9 Stars on Amazon

(Click here or image to go to Amazon)
If you enjoyed "Pest Removal" and/or "Threads" you'll really kick a kick out of "Blood of Invidia". Written with my son, Morgen. We wrote it in the cloud, having never been in the same room together.
(PS: I have pulled them from Instafreebie. They'll only be available for download during sign ups for email OR at my Patreon page….read more below)
---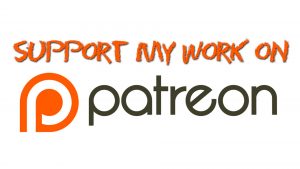 If you've been on my website before, you have seen a LOT of free Short Stories and Flash Fiction to read. I love writing them. But I also "gotz ta pay da bills". That is what is behind the content move to Patreon.If you're not familiar, Patreon is just what it implies. Modeled after the "days of Yore" when influential people that appreciated a creators endeavors (Patrons), helped them by promoting and funding some of the costs for the artists endeavors.
This isn't a "break the bank/lottery level" funding program, and it's not Kickstarter either. Its a chance to read new and entertaining stories, enter contests, become Advanced review copy readers, join the prerelease BETA read teams and participate in the creative process for my future works by being a Patron of my efforts. How much do you spend? $1 to $5 per month at the level of participation you feel comfortable with.
Now, I'm gonna type the next statement in all caps. I'm kinda yelling, but I want to make the point:
THIS IS NOT ABOUT FUNDING MY BILLS AND LIFESTYLE!!!
Whew…did we get through that ok? Still friends? Cool. Maintaining email lists, Websites, paying artists for books covers, professional editing, formatting, marketing ,etc all cost. I make every attempt to keep my "Publishing efforts" from impacting my Family budget (they suffer enough just having to listen to me drone on). That means I roll profits from books, amazon affiliations, project/product sales back into the book kitty. Patreon is another opportunity to bolster the funds for my writing efforts AND provide you with interim entertainment between the "full blown novels".
That means, going forward, I will carry the first stories from a series here and on Patreon for free, but the rest of the new content (and old) will be in the Patrons Feed.
What sort of Short stories are in there?
The "PULPED" Webisodes (And the next in the Series, "Slubbed!", will be there next!)
"All In for one Last Sin" Cyberpunk story…and it will be followed by 7 "prequel" stories.
"Stepping Razor 2.0" Cyberpunk series
"G-Raff" Urban Fantasy Stories 
That's all well and good, but what else? Well, book giveaways, Interviews of patrons on my YouTube channel, and special "one of the kind creations" as prizes to patrons. See, the spousal unit got PiR8 a 3D printer for Christmas. And I have lots of ideas (And skills) to make very cool SWAG for my Patrons.
[amazon_link asins='B074NZPHJ5′ template='ProductAd' store='wwwbookrevi01-20′ marketplace='US' link_id='cd9c9226-ecb7-11e7-9aff-b99261167b32′]
So why join and support? Good stories, Great previews, Opportunities for one-of-a-kind prizes and a to participate in the creative process on the ground floor. Thanks.
BTW, if you are a creator or Author, and want to start your OWN Patreon, click here