Short Stories available for a free read on this Blog
(Click the picture or links)
Published works for purchase are listed at the bottom of the page
"G-Raff: What's a Tallee got ta do?" A Gnomes tale by Tom Tinney. Short Story inspired by MHI universe.
"All in for One Last Sin" by Tom Tinney. Cyberpunk Flash Fiction tale set in a Dystopian future. Crime bosses meet to play for turf.

"Steppin Razor 2.0 " by Tom Tinney.  Cyberpunk Flash Fiction inspired by the art of Dawid Cencora

Based on William Gibsons "Sprawl Series".

"Steppin' Out- Razor 2.1 " by Tom Tinney. Cyberpunk. The second episode of Maggie's journey to seek her own justice in a dystopian future.

" Full Circle " by Tom Tinney. A SciFi Flash Fiction story about a alternative origin of Humanity.
" Fates "by Tom Tinney. SciFi Flash Fiction Story about combat for higher purpose
" PULPED! " By Tom Tinney. SciFi Detective Noir. "Pulped!" is the opening WEBisode (and series name) of the ongoing adventures of Redge, and ex-cop, and his "Gal Friday", Kinky, an ex-holoporn star. They run a Detective agency on Mars in our near future, where humanity is introduced to the rest of the galaxy and they have to work human, and,alien, cases.
 "KINKED" By Tom Tinney. SciFi Detective Noir. WEBisode 2 of the "PULPED!" series. This time around, we find out how Redge and Kinky first met.
 " FARKED" By Tom Tinney. SciFi Detective Noir. WEBisode 3 of the "PULPED!" series. Redge and Kinky get pulled into a case involving the Farkan Royal line.

"SLUBBED!"

COMING SOON!

 "SLUBBED!" By Tom Tinney. SciFi Detective Noir. WEBisode 4 of the "PULPED!" series. This time, Kinky goes out on her own to solve the disappearance of an semi-innocent Friend.
---
Published in Anthologies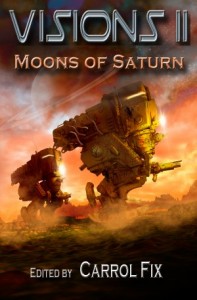 Visions II: Moons of Saturn
I contributed the lead in Story, "Pest Removal" based on Saturn's moon Dione. An interesting viewpoint and twist storyline in the RPG Military/SciFi vein.
Ice mining in space, aliens within our solar system, colonization of extraterrestrial moons, war between interplanetary corporations, and time travelers bent on destruction…
NASA's Cassini Missions have captured stunning images of Saturn, its mesmerizing Rings of ice and rock, and its 53 officially named moons. These twelve authors present their visions of the Saturn System's promise, as rich and diverse as the reality of Saturn, its Rings, and moons.
Click this link for Kindle version $3.99
Click This Link for Paperback version $13.95
---
The Future Is Short: Science Fiction in a Flash
The perfect companion for a lunch break, a coffee break, or a relaxing afternoon. It takes only moments to read one of these 57 speculative fiction capsules—transporting and immersing you in thrilling worlds of dreams and ideas.
Step across the border of reality and wander through the dazzling visions of 31 talented science fiction authors.
Relish each story in a tiny bite of speculative fiction entertainment and adventure; catching glimpses of miniature worlds of the future in fresh flights of science fiction imaginings.
Escape into this fascinating collection of 725-word stories that carry you into realms where imagination rules and time is conquered.
The Flash Fiction stories were the result of a monthly contest that limits the amount of words, theme and included elements. the Authors ability to write a succinct, intriguing and competitive story within the restrictions is where the fun is.
Tom Tinney's contributions are "The Horde" and "Beta Test"
Click here for Kindle version $3.99
Click here for Paperback version $9.99
---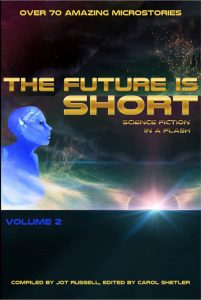 The Future is Short Volume 2 is another Flash Fiction  SciFi anthology that contains three Tom Tinney stories.
His contributions are "RRA", "Soldier 10.0" and the contest winning "Just Do It". Great stories from up and coming Authors.
Click Here for Smashword Epub version $3.99
Click Here for Paperback $12.99
---

Save
Save
Save
Save
Save
Save
Save
Save
Save
Save
Save
Save
Save
Save
Save