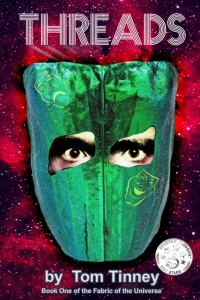 Like many #Scifi authors, I've decided to end my exclusivity with Amazon Kindle and the Kindle Select program by offering "Threads" on Itunes, Kobo and Nook.
There were diminishing returns and the Amazon guidelines are being supplanted by staff that have their own agenda for what is "acceptable" to their particular panty twisting political views. The first amendment is 1st for a reason, so I prefer to exercise our Fore Fathers free market thinking (Much like that from the novel) and expand the distributorship of my work.
Why read "Threads"? It's the year 2576 and humanity has moved out into the galaxy, establishing the MetroStellar in a new age of manifest destiny.
A chance encounter plants an evil seed, and a psychotic killer begins stalking the female population of the MetroStellar. It's up to the USS Marshal Service to find him before he kills again.
In another part of the galaxy, a lone marshal, on a routine undercover mission, stumbles into a 300-year-old cover-up.
Both cases begin and end with the Intra Stellar Transportation and Exploration Company (ISTEC), and the planet they control, Exodus.
Solving each case, and coming out alive, will require the combined skills of two marshals. They're twins who will have to use their special bond to overcome the forces working against them and seek justice for those they've sworn to protect. They're stronger together, but first, each will find the greatness in themselves. When they do, the Fabric of the Universe will never be the same.
"Threads" spans the colonized galaxy and the next 500 years of human history. The author uses unique technologies, intertwined story lines and political intrigue to move the reader to its exciting conclusion.
We're on numerous platforms now. The links are below:
Apple Itunes bookstore: Buy on Apple ITUNES
Barnes and Noble Nook: BUY ON NOOK
Kobo Bookstore: BUY on KOBO
PAPERBACK LINK (UNSIGNED) $16.49: Buy at THREADS STORE
PAPERBACK LINK (SIGNED) $16.49 plus Shipping via PayPal : Email Pir8 for details.
(Must use PayPal and only ships in USA..Cost is $16.49 USD plus $3.51 Shipping in Continental US)
Discounted prices are available for book quantities of 10 books or more. Email using address above for more information.
and the old KINDLE LINK ($3.99 or free to Kindle Unlimited Users): BUY ON AMAZON
Save
Save